Membership
---
Welcome to the Ambassador Committee profile!
Our committee members are proud to form the frontline of the Greater El Paso Chamber of Commerce. As such, we encourage new members to participate in chamber events like the monthly "business after hours" social, the quarterly "breakfast with the board" orientation and frequent "small business association" luncheons.
We promote participation in the many chamber committees because these groups not only propel the agenda of our chamber at large but also serve the specific interests and goals of the individuals who compose the business sector of El Paso.
Ambassadors attend official ribbon cutting ceremonies, open house gatherings and ground-breaking celebrations every month. In doing so, we spread the good word about chamber activities to potential and new members as well as long-time members who may have lost their connection to our vibrant association. This busy calendar also provides us with significant networking opportunities. It's just a great way to meet people, have fun and educate ourselves about what's new in our city!
On a more personal level, ambassadors take the time to reach out through our monthly call campaign - putting a friendly face to the sometimes overwhelming prospect of joining such a huge organization. This is the essence of our committee- a welcoming handshake and a sincere interest in the people who make our chamber great.

Finally, you can never have too much good will through professional representation. That's why i'd like to conclude this message with an invitation...Our committee is a great launching pad for your chamber experience.
We meet on the first tuesday of every month and all are welcome to attend as our guest and discover the many benefits of service our committee members share.

Watch for member updates in the near future and thank you for your interest in our story,

Sincerely,
Marie Moore
2013 Chairperson for the GEPCC Ambassador Committee
Access to Information
Networking
Marketing
Business Development/Certifications
Ribbon Cutting Ceremonies
Business to Business Discount
There is much more. Please contact us and we will identify those services that will take your business to the next level.
Sam's Club

Rewenal/New Member coupon

Humana Insurance

Discounted Health Insurance

FastSigns

$300 free banner for new members only

Legal Shield

Group rates & no enrollment fee for pre-paid legal services

UNA Prescription Card

Discounted prescription coverage
Get your FREE RX Card HERE
Take advantage of your Chamber benefits and save $30 on your business essentials!
Use this special Chamber Program code to receive $30 off your qualifying purchase of $200 or more, on top of your program discounts of up to 60% from a list of 195 commonly purchased business essentials, up to 70% off Copy & Print Services, and 5% off most other items. From ink, toner, paper and printing services to breakroom snacks and cleaning supplies—your Chamber Office Depot program has what you need.
In addition to your special pricing, receive fast & FREE delivery on qualifying orders of $50 or more.
Click here to see the details and receive the coupon code. (Expires 6/29/13)
Also, Papermate, Uni-ball and Sharpie are working together to help you find the perfect pen! http://www.benefitscorporation.com/documents/PapermateBenefits.pdf
Star Investor List
MAJOR CORPORATE INVESTORS: $10,000 & ABOVE
| | | | |
| --- | --- | --- | --- |
| BBVA Compass Bank | Bowling Enterprises | C.F. Jordan Contruction | Clear Channel Outdoor |
| Del Sol Healthcare | El Diario de El Paso | El Paso Electric Company | El Paso Times |
| El Paso Water Utilities | Helen of Troy | Hunt Companies, Inc. | J.D. Abrams, L.P. |
| Rocky Mountain Mortgage | Sierra Providence Health Network | Southwest Land Development Services, Inc | Texas Gas Service |
| Time Warner Cable | TVO North America | Wal-Mart Stores, Inc. | Wells Fargo Bank |
| Western Refining | WestStar Bank | | |
MAJOR CORPORATE INVESTORS: $5,000 - $9,999
| | | | |
| --- | --- | --- | --- |
| ADP | Applebee's, Village Inn, Corner Bakery | Army & Air Force Exchange Service | AT&T |
| Bank of America | Boeing Company | Bohannon Development Corporation | Casa Ford Lincoln Nissan |
| Castro Enterprise, Inc. | Cemex Construction Materials South, LLC | Chase Bank | Cox Smith Matthews |
| Delphi Powertrain Systems | DynCorp International | El Paso Disposal | Emergence Health Network |
| FirstLight Federal Credit Union | Freeport McMoRan El Paso Operations | GECU | Glazer's Dist Fine Wines, Spirits, Malt Beverages |
| Group 1 Automotive | HP | Inter National Bank | JDW Insurance |
| Jobe Materials, L.P. | Kemp Smith LLP | L & F Distributing | Mills Plaza Properties, LP |
| Moore Nordell Kroeger Architects, Inc. | Novamex | Peter Piper Pizza | Pride Industries |
| RabaKistner Consultants, Inc. | Scott,Hulse, P.C. | Security Service Federal Credit Union | Sun City Behavioral Healthcare |
| Tecma Group, L.L.C. | United Bank of El Paso del Norte | University Medical Center of El Paso | Wells Fargo Insurance Services USA, Inc. |
| Western Technical College | Ysleta del Sur Pueblo | | |
CORPORATE INVESTORS: $2,500 - $4,999
| | | | |
| --- | --- | --- | --- |
| American Airlines | American Finance & Investment Co. | BAE Systems | Bienvivir Senior Health Services |
| Caliber Collision Center | Cardinal Health | CareFusion | Case & Associates Properties |
| Clint Independent School District | Conde Inc. | Dannenbaum Engineering Corp | DATAMARK, Inc. |
| DHL Global Forwarding | Dish Network | El Paso Area Teacher's Federal Credit Union | El Paso Independent School District |
| Electrolux Home Care Products, Inc. | F.C. Felhaber & Co., Inc. | Federal Reserve Bank El Paso | First Convenience Bank |
| Flowers Baking Co. of El Paso, LLC | Fred Loya Insurance | GCX Corporation | GE Medical Systems |
| Handgards,Inc. | Housing Authority of the city of El Paso,TX | Hyundai of El Paso | Jack in the Box |
| JNL Trading Company LP | Key Tronics Corporation | La Nogalera USA Inc. | Lawyers Title of El Paso |
| Martco Forwarding Co. | McCormick Architecture, LLC | MidWest Textile | MIMCO |
| MithoffBurton Partners | Motorola Solutions Inc. | MTI Ready Mix | ReadyOne Industries, Inc. |
| Rio Grande's Buck Rogers Travel | Robins & Morton | Sanders Wingo Advertising, Inc. | Servicom Trade, Inc. |
| Shredder Company, The | Socorro Independent School District | Southwest Convenience Stores 7-11 | Stewart Title Compant |
| Stockton, Scurry & Smith | Stoneridge Electronics – North America | Socorro Independent School District | Southwest Convenience Stores 7-11 |
| Stewart Title Compant | Stockton, Scurry & Smith | Stoneridge Electronics – North America | Strattec Power Access, LLC |
| Strickler & Prieto LLP | Sundt | Superior Health Plans | T&T Staff Management, LP |
| TriWest Healthcare Alliance | Union Pacific Railroad | University Behavioral Health | University of Phoenix |
| UPS Supply Chain Solutions | Vemac- Venegas Engineering Management | Verde Realty | Wyle |
SMALL CORPORATE INVESTORS: $1,000 - $2,499
| | | | |
| --- | --- | --- | --- |
| A.O. Smith Corporation | Alamo Auto Supply | Allstate Insurance – Oscar Arrieta | Amerigroup Community Care |
| Arango Imaging | Atkins North America, Inc. | Autotronic Control Corp/MSD Ignition | B&M Machinery |
| Balfour Beatty Communities | Bank of Texas | Barrigas Restaurant | Basic IDIQ, Inc. |
| Bath Engineering Corporation | Beacon Services | Bella Homes | BNSF Railway |
| Booz Allen Hamilton | BPSI | Bremner Food Group | Brownco Capital |
| Buffalo Wild Wings | Buford Thompson | C & L Plumbing | C & R Distributing |
| Camino Real of El Paso | Carl's Jr. | CashAmerica Pawn | CEA Engineering Group |
| CH2M Hill | Champlain Cable Texas Corp | Church's Chicken | City Bank |
| Clowe & Cowan of El Paso Inc. | Computer Career Center | Concentra Medical Center | Corporate Comforts |
| Desert View Homes | Display Services Inc. | Diversified Technical Services Inc. | Dyonyx L.P. |
| Eagle Family Foods | ECM International, Inc. | Eco Laser USA | Economy Cash & Carry L.P. |
| El Paso Communication Systems, Inc. | El Paso Community College | El Paso Convention & Performing Arts Center | El Paso First Health Plans, Inc. |
| El Paso International Airport | El Paso Neurosurgery Center, PA | El Paso Specialty Hospital | El Paso Sports Commission |
| El Paso Tool & Die Co., Inc. | El Taco Tote Real Mexican Grill | EP Mechanical Technologies | EPV Group |
| Essential Fire Protection | Facilities Connections, Inc. | Ferguson Enterprises | First Savings Bank |
| First Southwest Company | Franklin College | Gamwell Technologies | Gibson Ruddock Patterson LLP |
| Glacier Technologies, LLC | Goodman Financial | Gordon Davis Johnson & Shane P.C. | Guerra Investment Advisors |
| Hard Rock Hotel & Casino Albuquerque | Hensel Phleps Construction Co. | Highlands Regional Rehab. Hospital | HNTB Corporation |
| Howard Payne University | Hoy-Fox Automotive Group | Humana Inc. | Independence Place @ Ft. Bliss |
| Industrial Realty Group/ Plexxar | Inn of the Mountain Gods | International Copy Machine Center | J.H. Rose Logistics |
| JACOBS | Jerry Waliszewski Insurance Agency | JKS Properties, Inc. | Journal, The |
| Kalische Steel | Karam Company, The | KB Realty – A Daniel Alu | Kermel Medical Staffing LLC |
| KFOX-TV | KTSM Television News Channel 9 | Laser Tech, Inc. | Laster Group, The |
| Lauterbach Borschow & Co. PC | Lone Star Title of El Paso | Luby's Cafeteria | Magic Pan Restaurant & Catering, The |
| Marriott El Paso Airport | Mattress Firm, The | Mesa West Medical | Mesilla Valley Transportation |
| METI | Miratek Corporation | National Restaurant Supply Co. | Newbond, Inc. |
| Northwestern Mutual Financial Network | NY Bagel Café and Deli | Office Depot | Oracle Payment Processing |
| Outlet Shoppes at El Paso, The | Outreach Health Services | Parkhill, Smith & Cooper, Inc. | Pet's Barn/Valley Feed |
| Pioneer Bank | Planet Fitness | Plastic Surgery, LLL | Price's Creameries |
| Professional Investment Counsel | Pro's Ranch Markets | Quality Inn & Suites | Ranger Security Detectors |
| Rio Restoration & Roofing, Inc. | River Oaks Properties | RJL Real Estate Consultants | RMPersonnel, Inc. |
| Robert Navarro & Assoc. Engineering | Roy Lown's Classic Awards & Billiards | Rudolph Chevrolet/Honda | Science Applications International Corp. |
| Servpro of El Paso West | Sierra Machinery, Inc. | Sonny Brown Associates, LLC | SpawGlass Contractors, Inc. |
| Sun City Women's Health Care | Sunlight Enterprises Co., Inc. | SunRidge at Palisades | Tecnologico de Monterey |
| The Garden | Time Warner Cable Media | Tom Growney Equipment, Inc. | Toro Co.Consumer & Irrigation Product |
| Travel Del Sol | TRAX International | University of Texas at El Paso, The | URS Corporation |
| Varay Systems | Vonanza Construction, LLC | Wagner Equipment | Walter P. Moore & Associates |
| WFSS, Inc. | Whataburger, LP | Winton and Associates | YMCA of El Paso |
ACCESS TO INFORMATION
As a member of the Chamber, you will be informed of those matters occurring in our area that will affect your business. There is no better source of information for those who want to stay connected. We will keep you informed via email, and our Spotlight monthly magazine.
NETWORKING
If you want to increase your sales, the Chamber can offer you the opportunity to market your business to over 300 business people every month simply by attending our networking events.
Business After Hours - 5:30pm to 7:30pm every month
Business After Hours is our monthly free networking event hosted by a Chamber member. As a new member you will receive a vendor table at the reduced price of $40.
For information call 629-6711
Breakfast Club - 7:30am to 9:00am monthly
Experience a great event with a live guest speaker and professional speakers via teleconference. This event gives you the opportunity to meet with other business professionals. Attended by over 40 business people.
RSVP 629-6711
Purchasing Power Lunch - 11:30am to 1:00pm monthly
Speakers at these events are purchasing managers of large corporations who will advise the attendees on how to do business with their companies. Attended by over 40 business people (RSVP required). RSVP 629-6711.
Meet the Board Breakfast - 7:30am quarterly
Members of our Board of Directors want to meet you. Interact with them, our staff and other members. Learn how to maximize your Chamber investment.
MARKETING
Nothing is as important in business as getting name recognition. The Chamber will make you known to our members, to the business community, and to those interested in doing business in El Paso.
Web Site Listing
Becoming a member places your name on our web site www.elpaso.org where it will be available to any visitor who logs on seeking information on your type of product or service. We host thousands of new individuals every month. As a member, your name will appear in alphabetical order and by type of business.
Directory
Our directory, El Paso Works (10,000 copies), is published once a year and distributed to every member free of charge. A digital version is also available on our website. Your name will appear alphabetically and by type of business.
SEMINARS
The Business Development Division hosts seminars on matters that will impact your business. BID opportunities, Industry Days and Certifications to name a few examples. These are just a few of the ways in which we help our members to become more successful.
GENERAL INVESTOR

Website Listing
Link to your web site
"Spotlight" access
Humana Group Health Insurance Discount
Listing in The El Paso Works Directory
Member Window Decal
Permission to use The Chamber logo
Meet The Board Breakfast Invitation (1)
Purchasing Power Lunch Discount
Business After Hours Table Discount
Ribbon Cutting Ceremony with Starlighter Certificate & Spotlight Recognition
Ability to offer discounts to members in elpaso.org at no charge
Access to member discounts as listed in elpaso.org
Advocacy at the Local, County, State and Federal levels
Access to Information about our region's economy and growth
Small Business Certifications expert advice
Business related Training
Exposure to over 400 business members every month
Opportunity to advertise in El Paso Works Magazine/Directory and elpaso.org
Notification of upcoming bids City, County, Federal and School Districts
Invitation to participate in any Chamber's Committees of your choice
Registration in Bid Zoom program
SMALL CORPORATE INVESTOR
All of the above plus:

Listing as Corporate Member in elpaso.org
Bold Listing in The El Paso Works Directory
Inclusion of up to four locations in elpaso.org and El Paso Works Magazine
Recognition as Small Corporate Member in Chamber's Corporate List
CORPORATE INVESTOR
All of the above plus:

Recognition as Corporate Member in elpaso.org and Corporate list
Inclusion of up to ten locations in elpaso.org and El Paso Works Magazine
Access to Certificate of Origin Certifications
Logo w/link on Spotlight Digital Version for 1 month (New Members Only)
Logo on all Chamber email blasts for 1 month (New Members Only)
MAJOR CORPORATE INVESTOR
All of the above plus:

Inclusion of up to twenty locations on website and El Paso Works
Recognition as Major Corporate Member in elpaso.org and Corporate list
| | |
| --- | --- |
| TICKETS PACKAGE | $400.00 |
| 2 Gala Tickets | $ 200.00 |
| 2 Business After Hours Exhibit Tables | $ 100.00 |
| 2 Purchasing Power Lunches Admissions | $ 50.00 |
| 1 State of the City Lunches Admissions | $ 50.00 |
| 1 State of the Military Lunch Admission | $ 50.00 |
| 1 State of the Higher Education Lunch Admission | $ 50.00 |
| Total Value | $ 500.00 |
Greater El Paso Chamber of Commerce
Discount Prescription Drug Card
This program is being provided to you and your family to help lower your prescription drug costs. Simply create and print your FREE Prescription Drug Card below and receive savings of up to 75% (discounts average roughly 30%) at more than 56,000 national and regional pharmacies. This card can be used as your primary plan and/or it can be used on prescriptions not covered by your insurance plan. This program also includes other value added programs which will be listed on the card. Please enter your name and e-mail address in the box below and we will generate a printable membership card for you (no application/enrollment or eligibility required). This program has "LOWEST PRICE" logic to guarantee that you get the best deal on your prescriptions. (You pay the lower of a discount off Average Wholesale Price–AWP, discount off MAC Pricing or Pharmacy Promotional/Retail price). This card is pre-activated and can be used immediately!
| | |
| --- | --- |
| | |
Need to order hard copies of cards for your friends, family, members or employees?
Simply
and follow the instructions to order your own personal cards online.
You can even customize the cards by adding your own logo image to the cards!
Includes the Following Programs:

Participating Pharmacies Include: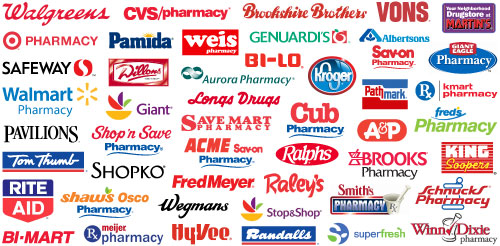 Join The Greater El Paso Chamber of Commerce by sending us your information and we will get back to you as soon as possible.